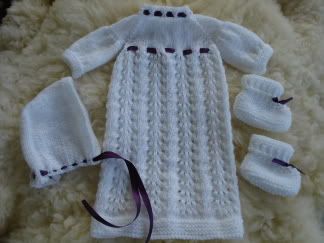 Front
Back
The gown set is finished. The pattern is
here
. Be warned though. I had trouble with the instructions. I originally wanted to knit the pointed lace pattern, but couldn't make it work with the number of stitches. The problem could be me. The author of the pattern welcomes email for help, but since I didn't have easy access to the internet on my vacation, I used the baby fan lace instead and changed things when I had problems.
Have you heard? August 1st-7th has been designated
International Charity Crafts Week
. This is a good time to concentrate all your knitting, crocheting and sewing efforts on projects for your favorite charity. I'll be knitting for
The Preemie Project
(no surprise here). My goal is to knit another gown set. One that's less frilly. More suitable for a boy.