The sewing machine works! And, I can sew a straight line...sort of. Here's one of the blankets for
The Preemie Project
(TPP).
I had to get a little creative with the remnants I bought the other day to make the blanket the right size. I decided to add a blanket stitch to bring some color to the edge. Besides, it's a lot faster than crocheting. I ran out of floss, but will get some more today and finish it up.
This next blanket has a cotton print fabric on the front and cotton flannel on the back, also with a blanket stitch.
I like this one. I think I will try this with some Halloween print fabric, because I haven't found Halloween prints on flannel or fleece. When making things for preemies, it's important to keep the fabrics soft and comfortable. I think this is a good solution.
As far a knitting goes, I've been working on booties. I found this
pattern
. It is quick and easy. So far, I've knit four pairs. Here's a picture of three sizes.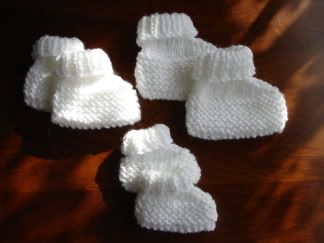 The pattern is written for four sizes, but I think I'll stick to these three. The fourth size would be too big I think. The goal of TPP is to present each baby with a hat, a pair of booties and a blanket. It is not required for each volunteer to make a set, but I'm feeling like I need to fill in the gap since I donated a lot of hats, but no shoes to match. There's one more week before the mail-in date, so I'll just keep going. I wonder how many I can get done?