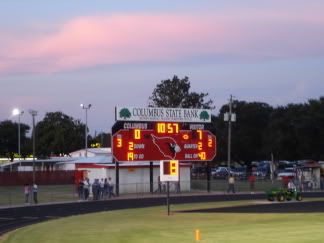 We arrived a little late to the football game in Columbus to the sound of Needville's fight song, which could mean only one thing--a Bluejay touchdown. We were treated to a beautiful sky as the sun went down. You can see a little color above the scoreboard, but the real show was behind us.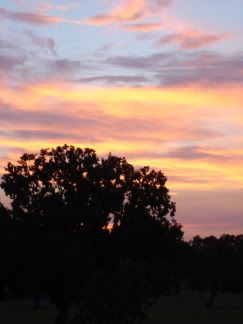 I captured it as best as I could, but as you know, it's always better in person. We heard the fight song a few more times and at the end of the game the score was Needville 33, Columbus 13. A good night for the Jays. The band gave a good performance too. They are waiting for new uniforms to arrive, so they just wore bluejeans and band t-shirts. A blessing really, because the temperature was close to 90 degrees even after the sun had set.
After the game, we headed for Georgetown to visit my son's girlfriend for her 18th birthday. Since we were so close, I couldn't pass up visiting
The Bluebonnet Yarn Shoppe
. It's a really nice shop with lots of yarn to choose from. I didn't buy any yarn though, just a pair of circular needles in a size I've been needing for a while.
My knitting has slowed down since I sent in my donation to
The Preemie Project
. My hand needed a little rest. However, today I might cast on something new. I'm anxious to try out the Llama yarn I bought in Kansas. I don't have much to work with, so it will probably end up being a simple garter stitch shawl, knit on large needles to give it a lace effect. We'll see.