Today begins the vacation part of our trip. It rained last night as predicted and temperatures were noticeably cooler. In the 50's all day.
Before we left Jersey, we drove by our old house near North Branch. Last we had heard, the place was empty, but it appears to occupied now. No one was home so we didn't poke around too much without permission.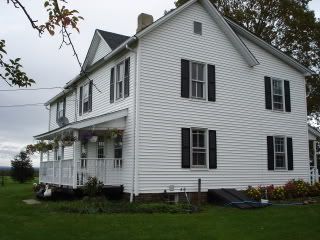 Some things have changed, but this house which is well over 100 years old is still looking good.
Robyn, I tried to get a picture of the backyard, but a large dog was chained up back there and didn't like me getting too close. This is the best I could do.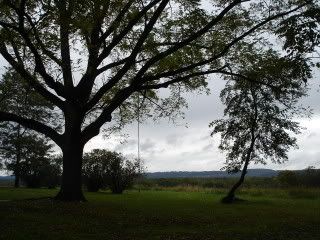 The large tree in the picture is the black walnut tree where you had your swing. Can you see the lilac bushes in the background? I remember they were in bloom when Matt was born. The maple tree and apple tree are still there, but the willow is gone. I noticed a large white Leghorn in the chicken house. Dad and I enjoyed our trip down memory lane. This was a good place to live.
Back on the road again. It rained lightly most of the morning. Our route took us through the Catskill Mountains. The leaves are barely beginning to turn. I think it's a little late this year.
Stopped in Saratoga Springs to stretch our legs and do some yarning.
Saratoga Needle Arts
was my favorite stop. It's a great shop. Lots of yarn and an excellent staff. I've been in the mood to knit a cardigan and I found a nice pattern and some yarn too.
Next stop, Lake George, New York. This is where we're spending the night. The lake is so beautiful. Clear, clean water with a mountain backdrop.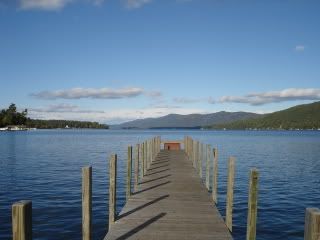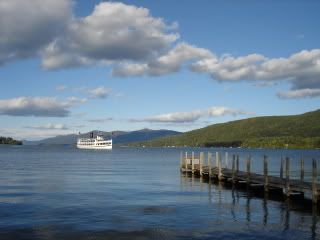 And just for fun, here's a picture of a pumpkin outside
The Log Jam Restaurant
where we ate supper.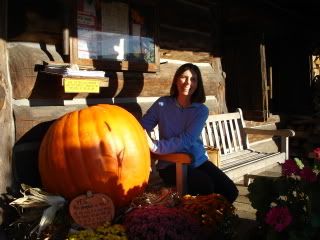 Yes, it's real...and I thought everything was bigger in Texas.
Tomorrow we drive to Vermont, where John grew up. From this point on I have a feeling we won't have access to the internet. I'll post all when we return home (unless I get lucky and find free wi-fi). We fly home on Monday.
To be continued...