Next week's blog will read more like a travel journal than a knitting blog. John has meetings to attend in New Jersey and I'm tagging along. We'll take a few days at the end to drive through New York and finally on to Vermont to visit family. I'm expecting to see some beautiful scenery and to experience some real fall weather. I'm really looking forward to this trip.
The only knitting I think I'm going to pack is the sock I'm working on. Of course, I'll have my yarn shop guide with me. When John is working during the day, I'll be on my own to explore. There just might be a yarn shop nearby, you never know.
Did pretty well knitting pumpkin hats and booties this week for
The Preemie Project
. I'll knit a couple of pairs of booties later today and put everything in the mail before we leave.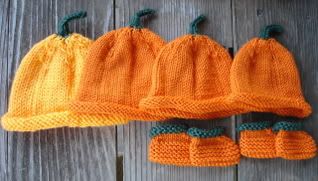 See you on the road next week.