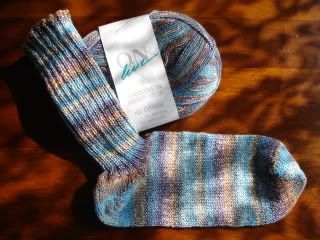 One down. One to go. I started this sock as soon as I finished John's Trekking socks. It's knitting up much faster than his. Could be because it's for me and I have a smaller foot or maybe the self-striping yarn is compelling me to keep on knitting. The yarn I'm using is a wool/cotton/nylon blend that should be perfect for the warm climate of Texas.
This basic crew sock has short row heels and short row toes (
Priscilla A. Gibson-Roberts method
). It's the best fitting sock I've ever made! The only trouble I'm having with the short row heel is a gap develops in the last few stitches. Of course, I never notice this until I'm way past the point of going back and fixing it. There are some things to do to avoid this gap, so I'll see how the next sock goes.
Can't wait to finish this pair. If I could knit as fast as
these ladies
, I'd have a drawer full of hand knit socks in no time.
Jean
met these ladies on a visit to Fair Isle. Click
here
for the post that goes with the video. I'm totally amazed!