It's harvest time in my town. The cotton fields are ripe.
The holding areas are filling up with compressed fresh picked cotton, waiting to be ginned.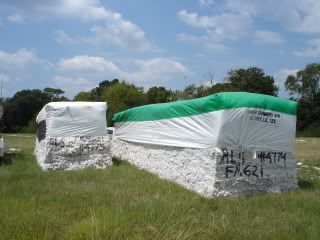 The cotton gins are running around the clock. They will work non-stop until all the cotton is ginned and baled. During a bumper year that might be until Christmas. There's a gin just a few blocks from my house and at night when everything is quiet, you can hear the engines humming.
It's a common sight to see bits of white fluff littering the road, because inevitably some escapes the truck as it is transported from field to gin. I think cotton looks best in it's natural form...
...but then, I also enjoy it in this form: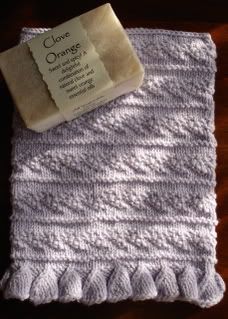 Pattern:
Blackbery Ridge Hand Mitt from
The Heirloom Knitter
Yarn:
Stork
100% cotton, fingering weight
Needles:
US 2 dpns
Finished Size:
6" x 8"
I really love knitting cotton washcloths. They make nice gifts when paired with a bar of
handmade soap
. The ruffle is my favorite part.