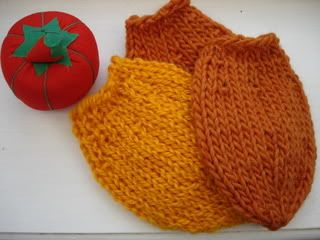 This picture shows three miniature pumpkins ready for felting. If you try the
pattern
don't be surprised at the pre-felted shape. I know it looks more like a football, but in the end it will look like a pumpkin. I promise.
I decided to make one of these into a pincushion. I did a little research and found that a pincushion can be stuffed with anything. It's really a matter of personal taste. Pincushions are often filled with sawdust, but you can use cotton batting, wool roving, poly-fil, emery (metal shavings) or fine sand. I read
here
that wool roving was often used in combination with sawdust. The lanolin in the wool roving keeps the pins from rusting.
I wanted the one I made to be solid and firm, so I decided to use sawdust. Since I needed only a small amount, I bought an inexpensive tomato pincushion, cut it apart and used the sawdust inside. This cushion also came with a strawberry emery, which I left intact and sewed inside the stem of the pumpkin.
You can see the pumpkin pincushion below along with some new pumpkins that have been added to my pumpkin patch.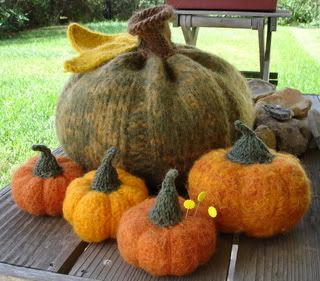 And I'm not sure I'm done yet.