Fresh off the needles...or maybe not so fresh?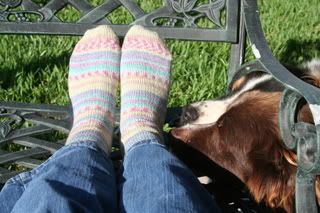 I don't know why the dogs had to sniff my new socks. My feet were not stinky. I promise.
Plain O' Stockinette Socks
Online Supersocke Cotton
45% Cotton, 40% Wool, 15% Nylon
Beach 946
Short-row heels and toes
US 1 on 64 stitches
And since I already had my feet propped up, I stayed outside just a bit longer to take in the Hummingbird Show. (Click the next two for bigger.)
At times it was dramatic.
And at other times, comical.
The best entertainment is sometimes right in your own backyard!
Get outside this weekend and enjoy what God has created (even if it's raining). You'll be glad you did.
Be still, and know that I am God; I will be exalted among the nations, I will be exalted in the earth!
--Psalm 46:10