I'm happy to report that housecleaning continues. One more room to go before the carpet cleaner comes tomorrow. This housecleaning I refer to is not the average dust and vacuum kind of thing, but the type of cleaning that requires trips to the donation center and leaves you exhausted (in a good way) at the end of the day. But, not so exhausted that you can't knit a stitch or two.
I've been working on a couple of hats for
TPP Michigan
. A nice simple pattern that can be finished in less than two hours is just what I needed at the end of a very busy day.
Pattern:
Rolled-Brim Preemie Hat
Yarn: Bernat Cotton Tots
Colors: Jelly Belly and Easter Parade
Needles: US 7
Size: 3-5 lbs
And here's another cute hat I finished some time ago, but never blogged about.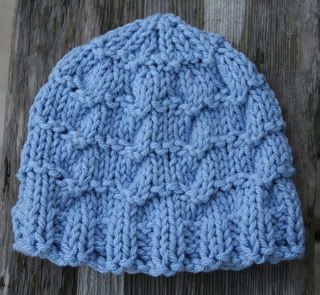 Pattern:
Noedel
Yarn: Lion Brand Cotton-Ease
Color: Ice Blue
Needles: US 7
Size: 3-5 lbs
I haven't done as much knitting for charity this year because of all the travel. It feels good to get back to it. I know I cannot maintain the pace I set the last couple of years (that's how the house ended up in such a mess), but I can knit a hat occasionally. The trick is to keep everything in balance. So far, so good.