The first real cold front of the season arrived on Monday. Temperatures went from the 80s to the 50s in a matter of minutes. At first I thought it might be a
blue norther
that Texas is famous for, but rain, wind and dreary weather lingered all day so it can't officially be called that.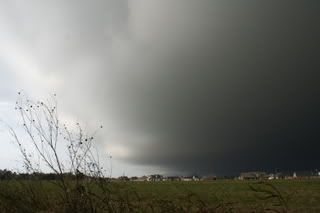 The sudden change in the weather reminded me that the
Kid 'n Ewe
fiber festival in Boerne, Texas is just around the corner (Nov. 9-11). This will be my third year to go. It's a nice little festival, so make plans to attend if you're in the area. Everything is set up in three big exhibition buildings at the Kendall County Fairgrounds, so no matter the weather, the show will go on.
One of my favorite vendors at this festival is
Brooks Farm Yarn
.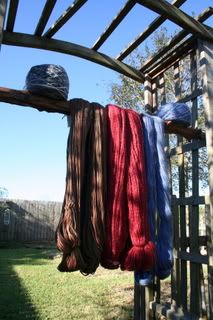 As you can see, I've collected quite a bit of their yarn.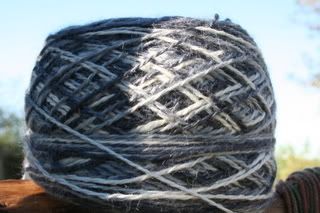 500 yards of Harmony (55% Mohair, 22.5% Wool, 22.5% Silk)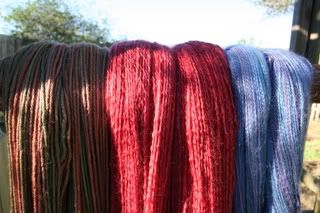 540 yards of Four Play (50% Fine Wool, 50% Silk)
1000 yards of Duet (55% Kid Mohair, 45% Fine Wool)
1500 yards of Primero (100% Kid Mohair)
I bought most of it without a specific project in mind, so it has sat in the stash unused. What a waste! I've decided to make it my mission to find patterns that will work well with these yarns and get busy knitting. How can I justify buying more until I use what I have? I may have to skip the Brooks Farm booth this year unless, of course, they have their sock yarn with them.