It took a full day of playing with yarn to come up with a pattern to use with some of the
Brooks Farm Yarn
that I showed you last time. There was lots of searching and swatching, a false start with a pattern that didn't work and then a light bulb moment when I remembered
My So Called Scarf
.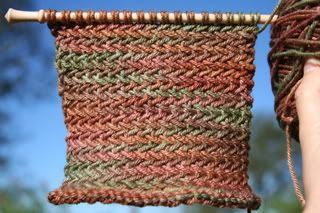 I've have always wanted to make this scarf. In fact, it was one of the first patterns I ever printed out when I learned to knit. I've seen it all over Blogland, but not recently which is probably why I didn't think of it right away. The stitch pattern is not reversible, but the back looks nice and neat.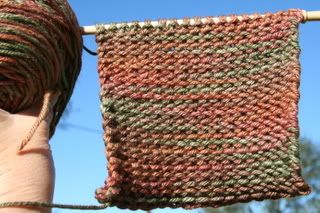 BFY Fourplay
(color: boots) knits to a different gauge than the recommended Manos del Uruguay. I started out using size US 11 (8 mm) needles, but the stitches were loose and sloppy. Dropping down to a US 10.5 (6.5mm) and adding four stitches gave me the look I was going for.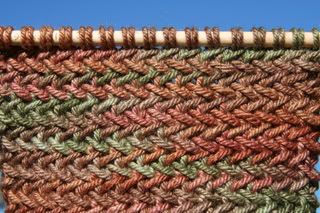 I love it when yarn and pattern come together so perfectly!