I've been practicing.
This time I'm using a Schacht spindle. It's a little heavier and probably a better weight to learn on. I'm improving, but have a long way to go before I feel comfortable with spindling.
~~~~~~~~~~~~~~~
It didn't feel like I knitted very much at all last week, but the sock is progressing never the less. It has grown to just past the heel and should be finished soon.
~~~~~~~~~~~~~~~
Our weather for the weekend was supposed to be nice and sunny, but things change quickly around here. Instead, the remnants of hurricane Lorenzo brought rain to the Texas Gulf Coast.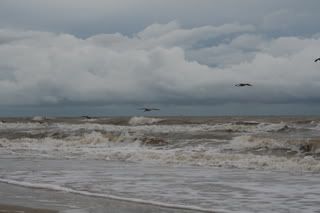 It was not bad enough to keep us from the beach though. The sky looked ominous at times and the winds were churning up the waters, but the rain held off while we were there. It was beautiful in a different way.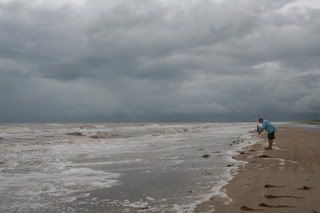 Psalm 93:2-4

Your throne was established long ago;
you are from all eternity.

The seas have lifted up, O LORD,
the seas have lifted up their voice;
the seas have lifted up their pounding waves.

Mightier than the thunder of the great waters,
mightier than the breakers of the sea—
the LORD on high is mighty.
~~~~~~~~~~~~~~~
I want to thank everyone that commented on
Friday's post
. The consensus is that I do indeed own an antique yarn winder minus the stand. However, no one is certain of how it is intended to be used. My only guess is that yarn is wound onto it and then knitted straight off the wheel or wound into a ball instead of being removed as a hank. If I ever find out any more information, I'll let you know.