High temperature in the mid-80s, low humidity, lots of sunshine and not a cloud in sight made for a perfect fall day at the beach.
We rented a 4x4 this time. Didn't want to get stuck again
and
we wanted to try it out to see if it would be worth buying one. It's worth it!
We drove farther down Matagorda Beach than we've ever been: 10 miles, which is about half the length. The beach narrows some here and shells have collected over time to form a bank that is raised several feet above the shoreline.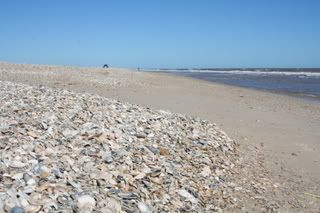 There are so many shells to comb through that it's a bit overwhelming.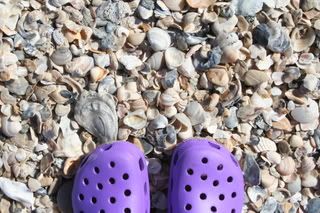 I found it easier to spot a good find down by the water where the shells are still plentiful, but not piled up on each other. It's always a thrill to find a sundial freshly washed ashore.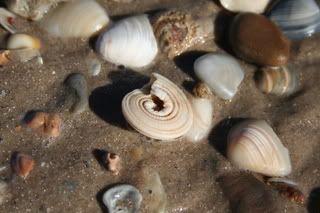 An
article
in
Texas Highways
magazine (June 2007) says that eagle-eyed beachcombers may spot Civil War or Spanish shipwreck artifacts among the shells and driftwood on Matagorda Beach. I didn't find anything like that, but I had a great time looking.
Before we left the beach I had a special picture to take. Several curious people stopped their vehicles to check out what I was photographing. When they saw what it was they drove away, no questions asked. They are probably still scratching their heads wondering why I was taking a picture of a sock.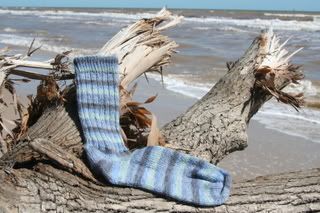 Mama Llama
Original Sock Yarn in Blue Jeans Color