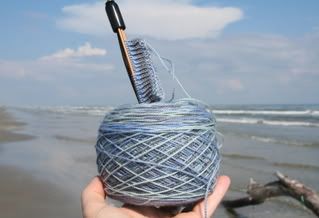 Sock debuts at Surfside.
Recognize the twisted rib cuff? It's the start of the very popular
Monkey
. So many people have raved about this pattern that I knew I would have to try it eventually. I may even knit it just as it's written and forgo my favorite short-row heels and toes. I'll decide when I get to that point. The yarn is
Mama Llama's Original Sock
in the Blue Jeans colorway.
After working very hard in the house on Friday and part of Saturday, I took my own advice to get out and enjoy God's beautiful creation. John and I drove to Surfside Beach, but realized right away that this was not the beach for us. The water looked good for fishing, but there were no shells and too many people--not what we were hoping for.
The only thing to do was change our plans and go to Matagorda Beach. I don't think we'll go anywhere else from now on. This is our favorite place and we appreciate it more each time we are there.
I saw some different things at Matagorda this trip. Not sure what this contraption is called, but it seats two and they sure did have fun flying around in it.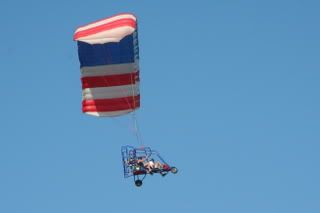 Hang on!
This was also the first time I've seen a horse on this beach.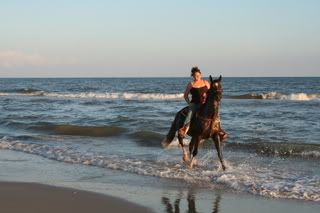 Do horseshoes rust in salt water?
However, it was not the first time to see the colors of the sunset light up the shore. It's something I will never grow tired of watching.
We're planning to go back to Matagorda next weekend. You're not surprised, are you?