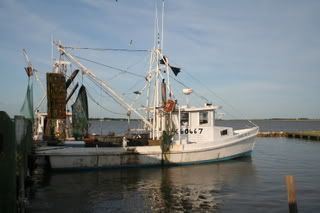 Plans to attend the Wool Market in Estes Park, Colorado fell through this year. Instead we ended up in nearby Palacios, a far cry from the Rockies and no wool in sight, but still, we had a nice time.
We stayed at
The Main Inn Bed and Breakfast
in one of the bungalows. Our room was clean and comfortable and breakfast was delicious.
John fished, of course, and I brought knitting to occupy my time, but didn't knit a stitch. I walked along the seawall, took pictures and soaked in the slow pace of small town living on the bay.
I could get used to this.