These are sure to brighten your day.
Who said washing dishes has to be boring?
I'm perhaps the last one out there to knit the Ballband Dishcloth recently made popular by
Mason-Dixon
, but I'm no stranger to knitting dishcloths. I cut my teeth (knitting-wise) on dishcloths back when I was a new knitter. I never counted how many I knitted, but it was a bunch. I used many of them myself, gave others to family members and the rest became my gift stash. Every so often I would dip into that stash and pull out a couple to include in a gift for a new bride. Well, this weekend I have a shower to attend and the stash has run dry, so I worked up these in the brightest colors I could find. The green actually matches something on the bride's gift registry, so it's a good bet she'll like them.
Just when I thought my dishcloth days were behind me, I now find myself wanting to make more of these. There will be opportunities. I know someone that will soon be in need of a housewarming gift and my own kitchen could benefit from a bright bit of hand knitted happiness.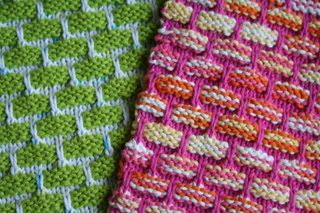 Pattern:
Ballband Dishcloth
Yarn:
Lily Sugar 'n Cream, 100% cotton
Colors:
Hot Green & Summer Prints, Lazy Daisy & Hot Pink
Needles:
US 6