Closet cleaning continues. I managed to sort through all the stuff that didn't make it back in the closet. Most of it went in the trash or is waiting for a trip to the donation center. I had been storing canning jars in that closet, so I had to find a better place to keep them. Of course, that meant I had to clean out a few kitchen cabinets...one thing leads to another. Got rid of lots of cookbooks I don't use anymore and also cleaned out the dreaded cabinet of plastic containers. Now the jars are in the kitchen where they belong. It won't be long before they will be used for pickling and canning.
As you can imagine, all this cleaning is cutting into my knitting time, but I do have three little hats to share that I knitted last week.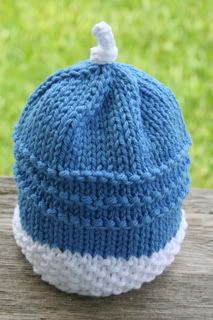 Knitted Newborn Hat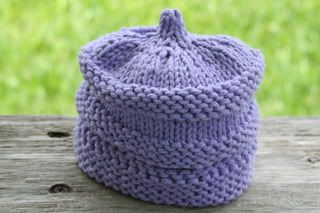 Slump Roll Cap
I think the link for this one has been removed. It used to be
here
. Download the party kit at the same site for a cute helicopter hat designed by Susan B. Anderson.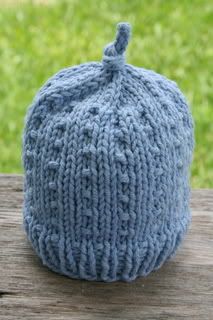 So-Soft Preemie Hat
For each of these hats I cast on 48 stitches using Cotton-Ease (worsted weight) and size US7 DPNs. I still have plenty of this yarn left and so far, I'm not tired of knitting preemie hats. I find them to be the perfect project for warm summer days. I'm sending these to
TPP/Michigan
.
Socks also make good summer knitting and I have some on the needles that I'm enjoying. Since I always have a pair of socks going, I find it very easy to let myself buy sock yarn. Recently, I added a new yarn to the stash.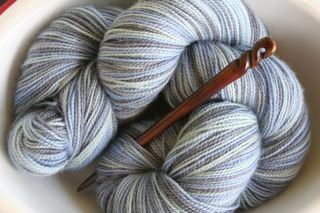 It's
Mama Llama's Original Sock
in the color Blue Jeans. I found it at one of my favorite
yarn shops
, but it's sold online too.
Catherine
, the dyer, lives here in the Houston area. I met her through her blog some time ago, so I was very excited to see her yarn for sale locally. Oh, and I picked up a pretty shawl pin too.
I also want to tell you about a blog I came across this week. It's called
SockPixie
. When you visit, be sure to check out Caroline's free patterns. Several of them are on my to-knit list. Her designs and photography are outstanding. The latest free pattern is for a pair of socks that was designed to kick off her new business venture with her daughter. You can find their collection of hand painted sock yarns at
sockpixie.com
.
Have a great weekend!