Designs in knitting are often inspired by designs in nature. I love the spiral of the sundial shells I found on the beach, so it was only natural that I knit a preemie hat that would imitate that design.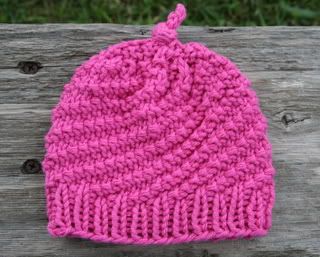 I used a pattern I came up with last year, but this time I tried to extend the spiral stitch through the decreases. It didn't work as well as I had hoped. The stitches are muddled together, so I don't think I'll be adding the spiral decreases to the pattern. I like it better as originally designed.
Pattern:
Preemie Spiral Hat
Yarn: Cotton Ease (worsted weight)
Needles: US 7 DPNs
Size: 3-5 lbs (worked on 48 stitches)
What I really wanted was for the spiral to clearly and neatly converge together on the top of the hat
, like it does in
this hat
(scroll down for top view of hat), so I gave it a try.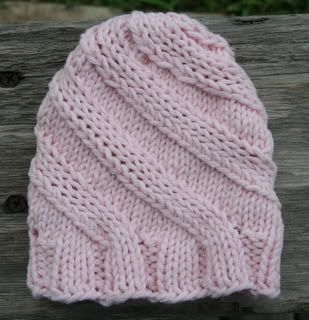 Pattern:
Odessa
with modifications
Yarn:
Cotton-Ease (worsted weight)
Needles:
US7 DPNs
Size:
3-5 lbs
Modifications:
CO 50 stitches.
Work pattern as written until hat measures 4" from cast on edge.
Begin decreases as written through line #8 (30 stitches remain).
K2tog around.
Cut yarn and draw through remaining 15 stitches.
This is more like I had in mind.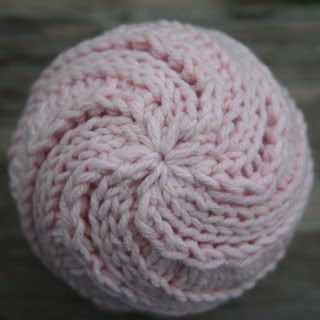 Here are more spiral designs you might like to try:
Striped Hat
Spiral Preemie Cap
Spiral Rib Hat
Baby Swirls
(this one is crocheted)
I'm donating my hats to
The Preemie Project
. Be sure to click the link to see the newly designed website. It's looks great and is easy to navigate.