Step One: Empty out a closet, preferably one that's not being used by anyone.
I picked the walk-in closet in Robyn's old room. She went through it last summer and took all her stuff home with her, but we somehow managed to fill it up again.
Step Two: Go through the house and gather up yarn, fiber, pattern books and all things crafty. Store in bins and baskets. Arrange neatly in the closet and admire.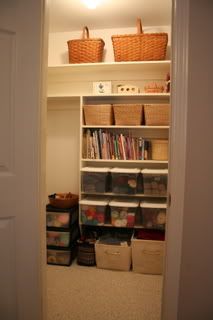 Doesn't it look neat and organized? All of my yarn is now in one place. The black stacking cart on the left holds all of my baby yarn. The blue woven basket on the floor is filled with sock yarn. The two canvas bins next to that hold wool for felting and worsted weight acrylic for charity knitting. The other six plastic bins on the shelves above contain the rest of my stash: cotton, wool and other natural fibers. The rest of the baskets are for sewing and craft supplies. I still have to dig out all of my embroidery stuff from my bedroom closet. I have a lot of that.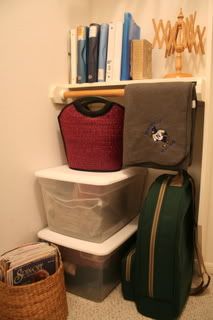 This side of the closet is for my spinning supplies. The two large bins are holding my fiber. I made sure there's still plenty of room to add more.
The white brick that is being used as a bookend is from the old part of Needville High School that burned down recently. The 60 year old bricks survived and they sold them to raise money for a charitable cause.
Step Three: Figure out what to do with all the junk you took out of the closet in step one.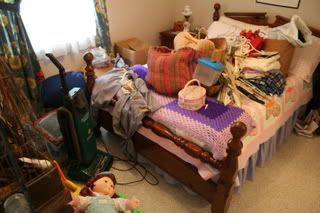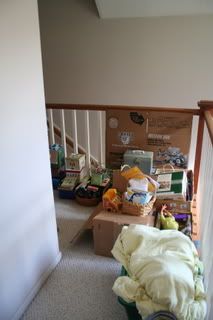 Without a doubt, this is the hardest step. I'll deal with it tomorrow.