Today we drove the Pikes Peak Highway. Along the way to the summit, we stopped for a walk around Crystal Reservoir. This is a great place to view
Pikes Peak
.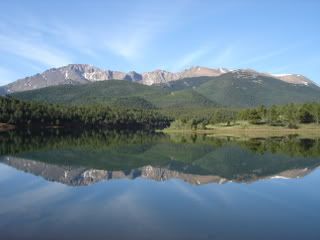 The clouds appeared to be radiating from the mountain.
The drive to the summit is 19 miles of beautiful scene after beautiful scene. We rose above the clouds and then above the tree line until we reached the top--an elevation of 14,110 feet above sea level.
It's hard to capture in photos what it's like to be that high, but here's a picture of a group of people enjoying the breathtaking view. It looks like they could step right out onto that cloud if they wanted.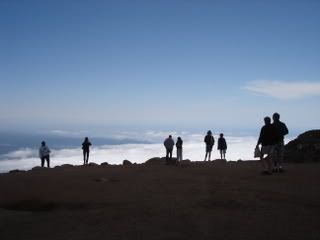 To me, it felt like being in an airplane, seeing the clouds from above, but there's no pressurized cabin to help with the oxygen and it's always cold up here. Good thing I had some wool in the truck to keep me warm.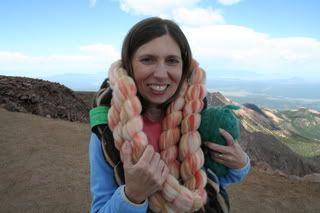 Details about the fiber another day.