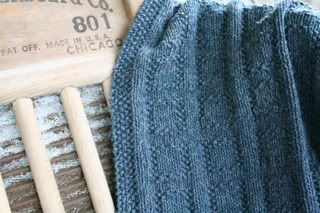 Did you ever start a project as a quick knit only to have it linger on the needles for months? That's what happened with this hand towel. I started it in March and now in June, it's finally finished. Yay! I feel like I should celebrate. I like the yarn, I like the finished product, but I did not enjoy the process. It seems I have a mental block when it comes to this stitch pattern. It's simple, but for some reason I could never get through a knitting session without making a mistake--not one time. And I found myself messing up in the same way over and over again. Too much tinking back to fix errors that should never have happened in the first place took the fun out of the process. But, I stuck with it and now I have a lovely towel to use and enjoy.
Pattern Book:
Mason-Dixon Knitting
Yarn:
2nd Time Cotton, 75% recycled cotton, 25% acrylic
Color:
#557 Atlantis
Needles:
US 6
Size:
15" x 24"